Sections on this page
---
Nowadays, when it comes to the best way to book hotels online, there are plenty of modes to do so—whether through the property's website or via third-party sites offering discounted rates and last-minute deals.
So how do you know when it's best to book directly through a hotel or use online travel agents (OTAs) such as Expedia, Priceline, Travelocity, or Hotels.com? Unfortunately, the answer isn't so straightforward. It depends on several factors, including your travel needs and what perks you're hoping for during your trip.
We broke down the pros and cons of booking a room through a hotel's website or using OTAs to secure the best deal and why both options can be beneficial depending on the experience you want.
How Do Third-Party Booking Sites Actually Work?
Before discussing each option, let's look at how third-party sites work as a convenient way to book a hotel stay. OTAs allow customers to compare hotels all in one place easily, and guests can choose the best option for them based on their needs (price, star-rating, amenities, etc.).
Here's how booking a hotel through a third-party site works:
Room Inventory
Let's say a hotel has 250 rooms. The property will set aside 20 rooms for an OTA to feature on its site for a specified length of time. Hotels must guarantee this inventory. When you go to book, the third-party site isn't checking the current availability of the hotel because it is assumed that these rooms are open.
This is why some third-party sites don't allow same-day bookings. They tend to "send back" any remaining inventory to the hotel three days prior to an approaching date. This is to allow for walk-ins and last-minute reservations to be booked directly through the hotel.
Rate Parity
Oftentimes, OTAs have a rate parity clause within their contracts. This prevents hoteliers from offering lower prices on their websites and anywhere else on the internet. This means that anyone looking at third-party sites as the best way to book a hotel room will find the same rate no matter which site they choose to book from.
How Rate Parity Works
If a hotel offers a package deal for a two-night stay in an ocean view room with a $200 breakfast credit a night on its site, they also must offer it on Expedia, Priceline, Booking.com, and so on.
Rate parity agreements are fundamental to keeping third-party commission models working since hotels are legally prohibited from marketing any rate which is cheaper than the OTA rates. One way hotels get around rate parity and commissions, though, is by offering a limited inventory on third-party sites during high seasons. When people are traveling more, hotels can offer fewer rooms on OTAs so that consumers book directly through them instead.
Pricing & Discounts
As far as rates go, OTAs may try and get the hotel to choose a lower rate for the room than what is on their website. On the other hand, the hotel can give these sites a max rate which it cannot exceed. In turn, the hotel cannot offer a lower rate on its own site than what is advertised on OTAs.
Third-party sites often have contracts with these hotels and receive a commission when an individual books through its site. Currently, that rate is somewhere between 15% and 30% of the value of the reservation. Hoteliers can also bid for higher placement on these listings in exchange for a higher commission fee paid to OTAs.
While it can't exceed the rate given to them by the hotel, third-party sites could also market it for less and make less of a commission if they choose.
How Hotels & Booking Sites Make Money
If a room is $200/night and Priceline has 20 rooms on offer at a 20% commission, the hotel will get paid $160 each time the rooms are booked. Priceline could, however, sell the room for $180/night, and the hotel would only make $144 on that same room.
OTAs often do this to undercut the competition and encourage guests to book through them even though they make less commission per room.
Who Owns These Sites?
According to Consumers' Checkbook, two companies control the majority of OTAs (around 93% of online booking sites) and offer the same rates across their booking platforms. Expedia Group and Booking Holdings own sites such as Trivago, Expedia, Hotels.com, Orbitz, HomeAway, Hotwire, Kayak, Booking.com, and Priceline, to name a few.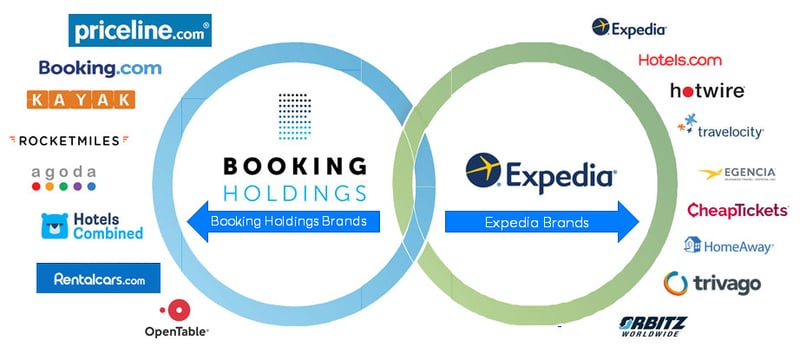 That means, regardless of which site you use, you'll mostly find the same price point for the room(s) you want. So if the price is your only motivation for deciding upon a reservation, the best way to book hotels is through either avenue: OTAs or direct.
Reasons to Book Hotels Direct
That being said, there can be plenty of perks to booking through a hotel's website, but you'll need to know what type of experience you want out of your trip and how to benefit from booking direct. These reasons include:
Exclusive membership rates.
Free night stays with membership points.
Increased chance of free room upgrades.
Exclusive packages offering discounts and amenity credits.
Improved customer service.
Up-to-date listings and hotel announcements.
Loyalty Programs
As a part of a hotel's loyalty program, guests have access to a variety of perks such as suite upgrades, complimentary breakfasts, priority check-in, late check-out, or the use of exclusive member lounges. You may even benefit from exclusive member rates, which can be somewhat cheaper than what is advertised on OTAs.
Using Rewards Points
To use your rewards points to book a free stay, you'll always have to book directly through the hotel.
When booking with a site like Travelocity or Priceline, though, you may not have access to these perks, and therefore, it may not be the best way to book hotels. Some third-party sites allow you to add your rewards number when booking but some hotel programs only honor those points if you book through them.
Hotel loyalty points can be more inflexible than other rewards programs, such as frequent flier miles that honor points no matter who you book through. If you're curious whether a property will honor your loyalty points after booking through an OTA, give the hotel a call and see what they can do for you. Sometimes they'll give you the loyalty points or some of the benefits that you'd normally be entitled to.
Upgrades & Packages
Hoteliers have the option to keep certain packages or luxury upgrades and amenities off of OTAs. When you book through them, you may find more options for packages that include parking, breakfast, spa credits, or eliminated resort fees.
Additionally, if you're a rewards member, it may increase your chances of getting a free upgrade at check-in if you booked through the hotel's website. Upgrades are at the discretion of the front desk representative, and regardless of how you booked, they may still be available to you if you've been a longtime member.
Customer Service
Customer service is likely one of the biggest reasons why going straight to the source is the best way to book hotels. In the age of COVID-19, the need for easy cancellations is a necessity that most travelers now require.
When a trip needs to be rescheduled, abandoned altogether, or something goes wrong during your stay, hotel reps are generally able to offer more assistance and can push your requests up the food chain should you need to speak with a supervisor about the matter. Guests who book direct will typically get better support for their requests than if they go through a third-party site.
Third-party sites can be more challenging to work with, especially if trying to secure a refund. High call volumes and strict cancellation policies can make it challenging to work with OTAs. Further, if you're not having any luck contacting customer service or if your refund needs aren't being met, it's likely not possible to call the hotel to get help with your reservation. They'll often point you back to the third-party site you originally booked with for assistance.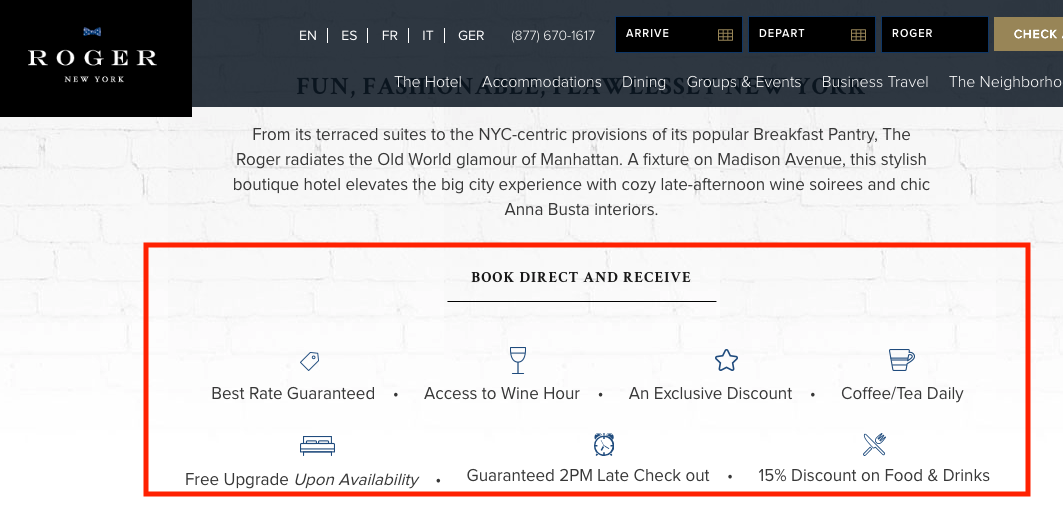 Price Matching
As mentioned earlier, rate parity is a common clause in hotel contracts with third-party sites, so you'll likely see the same rates on OTAs as you do on a property's website. However, this may not always be the case and may not always be the best way to book hotels.
Many hoteliers offer a "best-rate guarantee" that guests may not know about. If you see a lower rate advertised on one of these third-party sites, you can generally call the hotel directly and ask them to match that rate.
Because they want you to book through them to avoid commission fees, they'll typically honor that price and may even throw in additional perks such as room upgrades to sweeten the deal. Rate guarantees sometimes come with a caveat, though, requiring guests to book the higher rate first and then submitting a claim for the lower rate 24-48 hours after booking. Make sure to ask a hotel representative whether they price match and what the terms and conditions are for securing that rate before booking.
Hotel News & Updates
Third-party sites aren't required to stay on top of any hotel changes, upcoming construction, or amenity closures that a hotel's website may include. For some, this could mean showing up to a hotel booked through an OTA and realizing that property-wide construction is going on during your entire stay.
When booking directly through a hotel, they'll often include up-to-date information on their services and amenities so that you are aware of any issues before booking. However, if you book through a third-party site and are inconvenienced by one of these issues, you may have a harder time getting your money back or receiving a discount due to issues like constant construction noise.
Reasons to Book Through Third-Party Sites
While it may seem like the best way to book hotels is by doing so directly, there are a few instances in which OTAs can be the better option. This includes:
Comparing hotels based on your wants and needs.
Better options for last-minute deals.
Mystery deals offering cheaper rates.
Comparing Hotels
Ease-of-use is high on the list of reasons to book through a third-party site when comparing several hotels at once. Instead of having to switch in between tabs to see which hotels offer what and whose prices are best, you can easily see all their options on one screen and filter out what is most important for your stay.
For those of us with busy schedules and little time to browse each property's website one at a time, this is a particularly appealing approach to hotel shopping. Plus, you can read customer reviews which may not always be included on a hotel's website.
Express or Mystery Deals
Some third-party sites offer express or mystery deals at steep discounts and are one of the best ways to book hotels. For example, Hotwire offers "Hot Rates," which they claim can save you up to 60% off of rooms, but Consumers' Checkbook found these discounts to be closer to 38% off standard rates.
The main downside with mystery deals is that you may not know the name, hotel class, or location of a hotel before booking, and most are non-refundable. Though you can't choose the specific property, many of these sites will give hints, "clues," or key information for travelers to get a sense of the type of hotel they may be booking.
You can also use an OTAs filtering system to choose things such as price, hotel class, amenities, location, and guest rating. If you're willing to take this gamble, especially if booking last-minute, be sure to include those preferences, and the mystery deal will likely offer you a hotel within those parameters.
Unlocking Hidden Deals
To bypass or unlock these hidden deals, customers can sometimes take steps to become a member of these sites or connect their social sites such as Facebook to see these secret rates up front.
Travel Packages
Third-party sites can make it easier to book travel packages which include car rentals, your hotel and flight options. When booked separately, you may end up spending more than if you used an OTAs bundling pricing. They may even find a flight path that you wouldn't have considered to begin with or have a partnership with specific airlines to offer lower rates.
Remember that hotel, flight, and car packages tend to be non-refundable, so if you expect any issues to come up before your trip, this may not be the right choice for you. But if you're set on your dates and don't foresee any complications arising, the savings can be worth it.
How to Stay Safe When Booking Hotels
Unfortunately, one of the drawbacks of booking through a third-party site is the increased risk of being scammed. According to the American Hotel and Lodging Association (AHLA), OTA booking scams accounted for more than $5.7 billion in losses for as many as 23% of consumers in 2018.
Further, more than 55 million online hotel bookings are affected by scammers and have led to around $3.9 billion in bad bookings per year. Customers getting caught up in these scams have dealt with more minor issues ranging from undisclosed fees to the wrong accommodations and even lost reservations.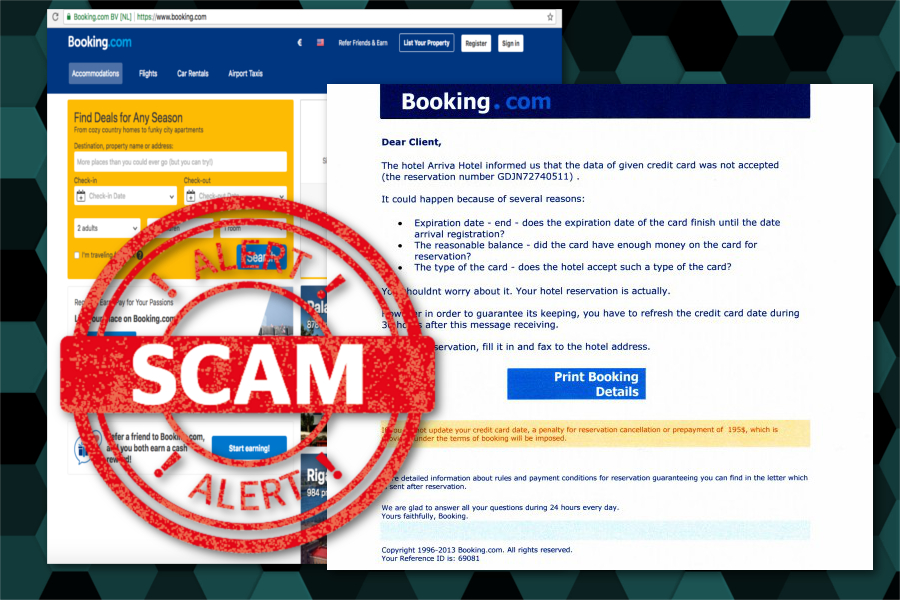 On a larger scale, scammers have used these fraudulent third-party sites to secure personal information from bookers or steal their money. To protect yourself from getting scammed, the Better Business Bureau (BBB) suggests the following as the best way to book hotels:
Booking a hotel directly from its site.
Using reputable OTAs.
Checking BBB.org to ensure they have a good track record with consumers.
Stay on top of current travel scams.
Buy only from secure sites starting with https:// in the URL.
Read the payment and refund policies before booking.
Call the hotel directly once booked to confirm your reservation.
The Verdict: Booking Site or Hotel?
Is the best way to book hotels directly through its site or via a third-party site? Well, both. The choice is entirely up to you and what you're looking for when reserving a room. Hotel websites can offer custom preferences, exclusive member upgrades, and better customer service, while OTAs have more wiggle room for last-minute booking deals and better comparison tools.
You hold the power. Don't be afraid to ask for price matching rates or inquire about room upgrades when on the phone with a hotel agent—they want your business and may have the ability to offer these extra perks if you mention that you're considering booking through a third-party site.