Sections on this page
---
Millions of senior citizens fall victim to fraud each year, losing around $3 billion annually due to scams and cybercrimes. And that number is on the rise, with a 27% increase in losses from 2019 to 2020 and a 61% year-over-year increase in reported elder scams.
Often, seniors are targeted due to their solid financial standings, good credit, homeownership, and trusting nature. Some of the most common cybersecurity elder scams include:
Tech support scam: Posing as technical support representatives, criminals seek to gain remote access to victims' devices and their stored sensitive information by offering to fix non-existent computer issues.
Romance scam: Fraudsters use social media to pose as interested romantic partners, often targeting women and new widows and asking for money to visit.
Financial scam: Scammers will pose as companies offering legitimate services such as reverse mortgages or credit repair, which could lead to the loss of a home.
If you're the loved one of anyone over the age of 50, there are several ways you can help them protect themselves online against scams, including securing all devices with access to the internet.
Handy Checklist for Seniors
Print our handy checklist and place it on your refrigerator to remind you and your family how to stay safe online.
Download Checklist (122 KB PDF)
Cyber Security Checklist for Seniors
Things You Should Do
Ask a family member to look over an email if you're unsure of its safety.
Speak to your family members before sending any money or giving away your personal information.

Scammers will often try to push you to answer them quickly to confuse you and lure you into falling for the scam.

Ask your family member to check your devices' security settings.
Tell your family members immediately if you feel you've been involved in fraud.
Call the National Elder Fraud Hotline at 833-372-8311 for help if you feel you've been scammed.
Things You Shouldn't Do
Never give out or send any personal information to unverified businesses or people.
Avoid opening or clicking links in emails from senders you don't know.
Be wary of emails from people you do know but that have suspicious or strange attachments or links in them.
Don't open or click on pop-up windows on your computer or phone.
Don't add people on social media (e.g., Facebook, Instagram) that you don't know.
Avoid posting any personal information on any social media platform.
Ignore spam phone calls or answering numbers that you don't recognize. Let them go to voicemail instead.
Elder Scams: Tech Support
Computer technical support scams occur when a criminal uses a pop-up message on an individual's phone or computer, alerting them that there is an issue with their device that needs fixing. Scammers prey on an elderly person's lack of computer knowledge and are looking to gain remote access to the device to gain personal information.
In 2018, the Federal Trade Commission (FTC) found that computer tech support fraud accounted for seniors losing an average of $500 by falling victim to these scams.
How to Protect Elderly Family Against Tech Scams
The best way to protect your loved one from these types of tech support scams is by:
Encouraging them to avoid clicking on a pop-up on any device, especially those suggesting that there is an issue with their device.
Encouraging them to talk to you first before they send money or provide personal information.
Helping them download reputable anti-virus and security software on all their devices.
Enable pop-up blockers on their devices to avoid them accidentally on them.
Search online for information about any proposed offer in their emails and search the contact information given by the sender such as their:

Sender's name
Sender's email address
Company name

Changing their software settings to allow for automatic updates on their devices so that their computer, phone, and/or tablets are always protected with the latest security measures.
Asking them to immediately shut down their computer and disconnect from the internet if they see a pop-up window or blank screen before contacting you or another family member for help with the issue.
Call the police if you feel they have been scammed or are in danger.
Contact their financial institutions immediately if you feel their personal information has been compromised.
Elder Scams: Smartphones & Tablets
It's important to incorporate the same level of protection to your smartphones and tablets that you would to your computer. Unfortunately, mobile security threats can occur by simply downloading an app from a trusted source such as the Apple App Store or Google Play Store.
While these apps may seem genuine, they will infect your device with viruses or malware to steal your information once downloaded. This includes login credentials, banking information, and passwords.
Android Users Most Susceptible to App Fraud
In 2019, 93% of mobile transactions in 20 countries were blocked as fraudulent, with malicious apps infecting 43 million Android devices.
A few signs that your smartphone or tablet has been infected include:
Random ads start popping up on your screen.
Your battery's power drains more quickly than usual.
Your device is running slower than normal.
Your device often overheats.
You start seeing apps on your phone that you didn't download.
Your apps are often crashing or using more data than is reasonable.
If you think a malicious app has infected your device, wiping the phone completely to its factory settings is the best way to remove it. While this isn't an ideal option, it is the only way to protect against malware fully.
5 Ways to Spot a Fake App
Research: Read the reviews of an app before downloading it. If it has few reviews, it may be a new app, so it's best to do an internet search to see what others say about it.
Reviews: Look at the names and dates of the reviews. Some reviews may be fake and tend to occur in groups on the same date or be short and non-descript.
Design: How professional does the app look? Are there spelling or grammar errors? Notice mismatched fonts or irregular placements of logos.
Instructions: Read the instructions or info on the app. If it lacks detail or seems vague, it could be fake. Developers often write out thorough explanations of their apps and their features.
Credibility: Some fake apps are clones of existing and legitimate apps. Always check who offers the app, how many downloads it has, its release date, and reviews. Most popular apps will have hundreds of reviews, so be wary of apps that look like a familiar brand but have very few reviews.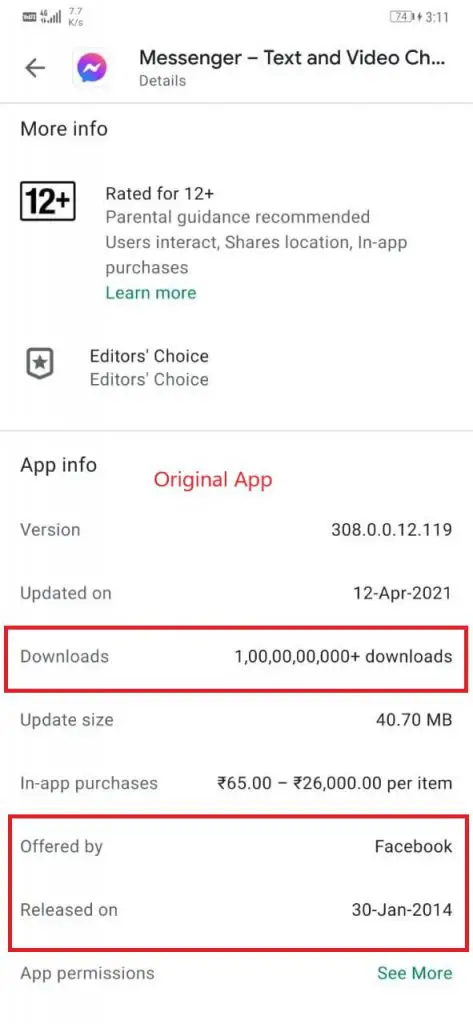 How to Prevent Against Smartphone & Tablet Scams
The Federal Communications Commission's Smartphone Security Checker offers a free checklist based on your phone's operating system to secure your mobile device. These tips include:
Setting PINs and passwords to unlock your phone.
Keeping your smartphone or tablet's security settings as they are; don't modify the settings.
Regularly backing up your data.
Only installing apps from trusted sources with positive reviews.
Wiping your data before selling, recycling, or donating your phone.
Read and learn about an app's permissions before accepting.
Turn on your phone's built-in security features such as Find My iPhone and Activation Lock.
Elder Scams: Streaming Devices
Nowadays, almost anything can be a "smart" device, with technology allowing us to connect to the internet no matter where we are. While your smart TV and related devices (Roku, Chrome Cast) may not be the first place you think to check for scammers, unsuspecting users have been known to fall victim to these types of viruses and malware.
Many of these scams are designed to steal personal and financial information from your connected accounts such as your:
Login details for streaming services (e.g., Hulu, Amazon Prime)
Stored credit card information for your subscriptions
A few signs that you may have a virus or malware on your smart TV include:
Your device begins to crash often
You start seeing pop-up ads
Your apps and software no longer update
While using your TV's web browser, you're sent to websites that you didn't search
How to Protect Your Smart TV From Viruses
Ask a family member to help you with the below steps to ensure your Smart TV and streaming devices are secure:
Update your smart TV and streaming devices by logging into your device's System Settings and following the prompts to update your software.
Choose the "check for system updates automatically" setting on your devices if available.
Make sure all installed Apps are up to date.

Developers frequently review and update their app's security settings, so it's important to check this regularly.

Protect your internet connection.

Use a secured WiFi connection that is password-protected. Make sure the password is strong, using a unique combination of numbers, letters, and symbols.

Install a firewall and malware protection.

You can download several apps to your smart TV or media streaming device to protect it from viruses and malware.

Only download trustworthy apps and read as many reviews as you can before doing so.
Use a virtual private network (VPN) to access the internet

VPNs give individuals the opportunity to establish a protected/safe connection when using public networks.

Call your internet provider and ask if they offer any protection services for connected devices.
Elder Scams: Phone Calls
The most common types of fraud schemes against seniors are phone-related elder scams. According to the National Council on Aging, this may be because seniors make twice as many purchases over the phone compared to other age groups. Typically, these types of scams involve payment with credit cards, wire transfers, or gift cards.
Government Imposter Scams
Frequently, scammers pose as government officials from the Social Security Administration, Internal Revenue Service (IRS), or Medicare. The government imposters will threaten arrest or deportation due to unpaid taxes or alert their victims of their Medicare benefits being turned off if they don't provide their personal identifying information.
These types of elder scams will often come from a Washington D.C. zip code or closely mimic the actual number of the government agency.
Sweepstakes Scams
This scheme usually involves contacting an elderly person and letting them know that they have won a sweepstakes prize. However, to get the prize, they'll need to pay a fee first before they can deposit a (fake) check into their bank account.
Since it takes a few days for the check to clear, scammers will have already received the payment from their victim before the bank rejects the check.
How to Protect Against Phone Scams
Don't pick up phone calls from numbers you don't know.
Never give out personal information out over the phone unless you initiated the call.
Add your phone number to the Do Not Call Registry.
Ask for paperwork to be sent documenting what is being asked and avoid agreeing to anything over the phone.
Block unwanted calls.
Learn about best practices when receiving calls/voicemails.
Use spam and call-blocking apps.
Elder Scams: Emails & Phishing
Email or "phishing" scams are designed to look like correspondence from legitimate businesses and trick individuals into giving up sensitive information. This can include sending a fake link or attachment to open, which can infect your computer with malware, or asking for personal information to verify your account.
Phishing emails may ask for your:
Login credentials such as your usernames and passwords
Address
Social Security number (SSN)
Email address
Credit card and banking information
How to Protect Against Email Scams
Look for red flags within the email, such as spelling and grammatical errors and unusual email addresses (e.g., a Venmo email coming from an @venmo-pay.com address).
Don't open emails that go directly into your Junk Mail/Spam folder.
Don't click on links or open attachments if you're unfamiliar with the sender or unsure of their legitimacy.
Search the internet for sketchy URLs before you click on them to make sure they're trustworthy.
Only trust websites that are secure (i.e., start with "https://").
Don't enter your sensitive information on sites you're unsure of.
Elder Scams: Social Media
Similar to tech support scams, criminals use social media to trick seniors into giving up personal information due to their lack of computer knowledge. Because anyone can create a fake profile on social media sites posing as a real person, it can be easy for seniors to fall prey to these types of scams. These types of scams include:
Fake accounts asking for money by impersonating people you know, such as friends, family members, or former coworkers.
Dating and romance scams exploiting elders' loneliness and asking for money. Some scammers may pretend to be overseas and in need of money to come to visit.
Another way cybercriminals use romance scams is by recruiting their victims to partake in illegal activity such as using their bank account to launder money or using their name to secure a loan.
Older Adults Suffer Greater Losses
According to the FTC, the median individual loss from a romance scam for people 70 and over was $9,475, compared to $2,500 across all age groups.
How to Protect Against Social Media Scams
To help protect your loved one against social media elder scams, make sure they:
Only accept friend requests or respond to messages from people they know.
Ask clarifying questions when accepting friend requests to ensure it is not a fake account (e.g., "What year did we first become friends?").
Don't respond to messages from people they do know if they seem unusual or odd.
Keep their social media profiles private.
Limit the amount of personal information they post and remind them never to post their:

Street address
Phone number
Location
Email address
Credit card information
Driver's License
Any other confidential information
How to Report Elder Scams
If you believe you or a family member may have fallen victim to elder scams, you should:
When reporting elder scams, it's important to include as many details as possible. If you can, keep all original documentation, logs, screenshots, and any other communication involved for your report. Additionally, seniors can contact Adult Protective Services or use the Eldercare Locator, a government-sponsored national resource line, to seek help.