Sections on this page
---
Scammers are using a new Venmo email scam to trick users into accepting a pending payment by convincing them to take extra steps to secure the transfer. Users have noticed emails sent from "Venmo" alerting them of a large sum of money waiting to be deposited into their account. To safely add the money into their bank accounts, they are asked to ship out a package via next-day delivery.
Venmo Payment Confirmation Emails Are a Scam
Venmo only sends correspondence from a @venmo.com email address and never asks you to take extra steps to accept a payment.
What is the Venmo Email Scam?
The goal of the Venmo email scam is to get you to click on the customer service email provided in the correspondence. Once you email the bogus account, scammers will attempt to get you to transfer money into their account, or they'll threaten to share your personal information. Here's how the scam works.
All-In-One Protection Including Identity Protection
Financial Fraud Protection

Identity Theft Protection

Family Protection & VPN
---
All-In-One Security
Identity Protection, Password Manager, Credit Lock, Parental Controls
Try A No-Risk 14 Day Free Trial
You Receive a Venmo Scam Email
You'll receive an email from "Venmo," which will feature its logo before the message, and the "From" field will show Venmo as the sender. It usually looks like a Venmo business transaction email.
If you don't click into the name field or hover over it to see who the actual email address is from, you may not notice the fake account.
The body of the Venmo fraud email states:
Dear [name]

We hereby inform you that the sum of $900.00 USD has been paid to your Venmo account by (@Anthony) using PayPal method.

In our efforts to protect all merchant transactions, We have now received payments for your item from our secure server. This is to ensure that the seller and buyer do their responsibility in every transaction we handle,this Venmo User Protection Policy methods have been taken due to fraudulent sellers. You are now required to ship out the (Package) via next day delivery and forward the shipment reference number and receipt to us for verification. Your account will be credited immediately after the shipment number has been confirmed.

If you have any issues, please email us at [email protected] or [email protected] and our customer service will attend to you. Help us to serve you better.

Thank you for using Venmo!

The Venmo Team
You Are Asked to Ship a Package
Within the body of the email, you'll be notified that you are being sent a payment via PayPal, and for your protection, there are steps required to transfer it into your account securely.
Citing a fake "Venmo User Protection Policy," the email goes on to say that this policy is in place to keep you safe from fraudulent sellers. But, of course, there is no mention of what package you are supposed to send and any info regarding the physical address—ensuring you'll need to email support for more information.
The Scammer Threatens to Release Your Information
The email message is purposefully confusing and vague. If you happen to email the sender asking for further clarification on the package, where to ship it, and how to get your money, it will be no use. The scammers will then use psychological manipulation techniques to get you to transfer money into their account(s).
Red Flags of the Venmo Email Scam
There are several red flags to be aware of for this Venmo email scam that can save you from getting your personal information stolen.
1. The Sender's Email Address
One of the first red flags of this Venmo email scam is found in the "From" or "Name" field. When you initially receive the email, you'll see the sender's name, which will likely say something like Venmo or Venmo Support.
When you open the email, the address field should appear next to the name. Per Venmo, any correspondence coming from them will end with @venmo.com, and its customer service email address is [email protected].
2. Poor Grammar and Spelling Mistakes
Once you get into the body of the message, you'll notice a number of grammatical errors, which isn't uncommon with these types of email scams. For example, in the second paragraph, you'll see:
"In our efforts to protect all merchant transactions, We have now received payments for your item from our secure server. This is to ensure that the seller and buyer do their responsibility in every transaction we handle,this Venmo User Protection Policy methods have been taken due to fraudulent sellers."
The "W" in "we" is capitalized in the middle of a sentence, and there is a space missing after "handle" before the next part of the sentence. Throughout the email, minor errors and inconsistencies like these are good ways to tell that a message may be a scam.
3. The Customer Service Email Address
At the bottom of the email, you'll have the option of choosing one of two provided customer service support emails. One ends in @email.com, while the other is @email.cz. Remember, any email coming from Venmo will end in @venmo.com.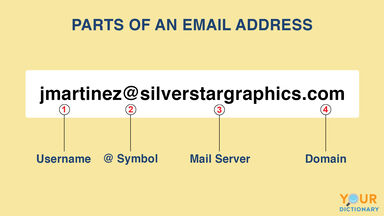 Regardless of where they come from, all emails will follow a simple format: username, at symbol (@), mail server, and the domain. If you drop the last part of the address into your internet browser, it should bring up the website in question to verify that it is a real server. For example, Email.com is not a found website.
While email.cz is a real email server, it is commonly used for personal account creation and isn't used by established companies such as Venmo.
How to Beat the Venmo Email Scam
These email scams are not new and will likely continue to exist for years to come. However, with the proper knowledge, it can become easier to identify when they are phishing emails.
To protect yourself against Venmo email scams, there are a few steps you can take to safeguard your personal information:
Do NOT click any links or attachments within the email.
Do NOT reply to the sender or write an email to one of the provided email addresses.
Block the sender. You can do this by going into your email settings and adding the address to your blocked email list. All servers are unique, so it's best to Google the step-by-step instructions on how to do so with your specific mail server if you're unsure of where to start.
Contact Venmo directly to report this scam. You can do so by filling out its online form or emailing

[email protected]

.
Have You Fallen for the Venmo Email Scam?
Whether you emailed the provided support email addresses or not, there are several steps you can take to protect yourself and your identity in the future.
Report the Incident to the Authorities
You'll want to report the scam to the authorities as quickly as possible. The Anti-Phishing Working Group and Federal Trade Commission (FTC) offer two ways to report such scams. First, forward the email to the Anti-Phishing Working Group at [email protected].
Next, go to ReportFraud.ftc.gov and report it to the FTC. Once you've filled out the required information, you'll also get helpful tips on avoiding similar scams in the future.
Contact the FTC's Identity Theft Division
If you accidentally emailed the sender and think the scammer may have your personal information such as credit card or bank account numbers or your Social Security number (SSN), go to IdentityTheft.gov. You'll follow a list of steps based on what information you lost to keep your identity safe.
Secure Your Devices
While the initial email may not contain a download link or attachment, it may convince you to download harmful software once you've started communicating with the scammers. If you think you clicked on a link or opened an unsafe attachment, update your computer's security software and run a scan to clean up your device.
The easiest way to understand how to do so for your specific device is to go to the developer's website. They'll provide you with ways to update your:
Security software such as antivirus or firewall programs.
Operating systems such as Apple OS, Chrome, or Windows.
Apps such as Venmo, since developers often provide updates for bugs or new features.
You may even be able to sign-up for email updates and get notifications on when to review your systems. Or choose the auto-update option for your programs and systems so that you never miss an update.
Update Your Password
After you've run security updates and secured your devices, it can be helpful to take extra precautions and update your account passwords. This could mean updating your email, bank accounts, banking apps, or social media account passwords.
You'll need to create a strong password which typically means a 12-character minimum. It's recommended that you use a combination of phrases, upper- and lowercase letters, numbers, and symbols while avoiding common words or phrases. Check out this password checklist provided by the FTC to help create a new one and use a password manager to help you remember your logins.